March 31, 2022
Over a month into the war in Ukraine, Russian troops were pushed back near Kyiv and have started withdrawing. But fierce fighting continues in the East and South, so we must continue raising awareness in the US and the world, fundraise and coordinate urgent help for millions of Ukrainians impacted by the war. Senseless atrocities in Mariupol lead to a humanitarian tragedy, as the once thriving port city is
being wiped off the map
by constant Russian shelling, which also makes it impossible for aid to be delivered. Russia destroyed over 60% of Ukraine's oil infrastructure. Hospitals lack medical supplies and are regularly
targeted by the Russians
in violation of the Geneva Convention. Access to basic medical and surgical supplies determine whether a patient lives or dies, whether a limb can be saved or must be amputated. We urge that to not turn away from the horrors Russia is inflicting on Ukraine – now is the time to act. In this critical time, Nova Ukraine needs your support.
Updates on Our Emergency Response
Our joint fundraiser with UNICEF USA seeks to build on the work UNICEF Ukraine has done in Ukraine so far for children and families, such as having delivered over 10 tons of cargo to Mykolaiv.
We are still far from our $2M fundraising goal. Learn more and contribute to the Nova Ukraine x UNICEF USA United for Ukraine fundraiser »
Our Partnership with Airbnb.org
We are working with Airbnb.org and found housing for over 1,000 Ukranian refugee families worldwide. We continue accepting new applications for Airbnb vouchers.
Our Impact to Date
We have raised $14M in monetary donations and spent $6.8M as of March 28. In addition, more than fifty tons of donated goods were collected and sent directly to Ukraine, including bulk donations of medical supplies and other critical items. The shipping and logistical costs associated with delivering these supplies and medical aid, which are worth over $5M, falls under the "Supply Chain" section in the pie chart below.
Our focus remains on providing critical medical aid for people in Ukraine, with over 65% of our spending supporting medical expenses. We will also continue supporting the 10M+ refugees displaced in Ukraine. Our team monitors the situation closely and we are ready to shift focus in accordance to rapidly changing circumstances. We are also preparing to support projects focused on rebuilding a strong, independent, and thriving Ukrainian society.
Our spending by category is summarized below:
Accepting Medical Donations
We have already shipped $5M+ worth of medical supplies to Ukraine, but we are ramping up our efforts in this space. We have recently initiated additional programs with our trusted partners to accept donations of medical supplies both large and small and ship them to Ukraine. We have partnered with ShortageUA, which offers an easy-to-use portal for individuals to order and ship critically needed medical items for delivery to Ukraine. Additional items are being sorted and collected by our partners at MedShare, who already have in place an effective pipeline of sending unused medical supplies from US hospitals for reuse.
Based on requests from hospitals and clinics on the ground, some of the most in demand items are:
Individual First Aid (IFAK) kits
Hemostatic dressings
Stretchers / backboards
Rigid cervical collars
Rigid splits for fixation of the upper/lower limbs
Suture materials: Prolene, Vicryl, of all sizes)
IV Systems: Syringes/IV starter kit/IV tubing
Chest seals: HALO seal, FOX seal, Hyfin
PPE: Sterile gloves and gowns
See Our Medical Donations Page »
Partner Highlight in Ukraine
We have contributed $100,000 in aid to Patients of Ukraine, which will be used to purchase and distribute medicine to regions under siege: Kherson, Kharkiv, Sumy and Chernihiv. We've previously worked with Patients of Ukraine by providing PPE to healthcare workers during the COVID-19 response and will continue to support them with further medical needs.

Volunteers from Palyanytsya, our partners in Ukraine, were able to deliver
1.5 tons of medicine and supplies to Chernihiv Regional Hospital
yesterday, despite the destruction of a key bridge to the city and the loss of communication in the city. The dangerous journey took two days using alternate routes.
---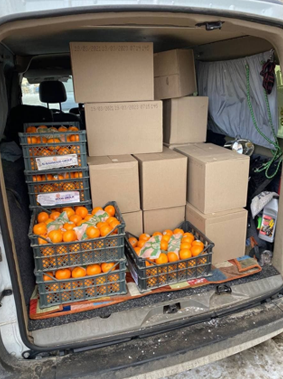 3,500 families in Kharkiv received food
from Nova Ukraine via our partner Rotary Club Kharkiv "New Level."
The food was delivered from Poltava, Dnipro, Ternopil, and Lviv. In addition, over 200 families received needed medicines, including insulin, syringes, catheters, and L-thyroxine.
---
Nova Ukraine volunteers continue delivering food and medication to the elderly in the Kharkiv area who are unable to leave their homes due to constant shelling and limited mobility.
---
We recently reported that one of our partners lost a van delivering food near Mariupol. The van was destroyed by shelling. Thankfully, the drivers sustained only minor injuries. Nova Ukraine rushed funding to replace the damaged van and get aid deliveries back on track.